Use a 4 jaw chuck for indicating a barrel for threading a suppressor.
A spider is the outboard end of the lathe spindle that has been drilled and tapped for adjustment screws, but many people fabricate one that just slips into the spindle bore and is held in place with set screws, then uses the longer brass tipped screws to manipulate the outboard end so as to properly align the bore. Check out the Grizzly web site for the G4003G. They have a photo of the spider on the end. Or refer to one of my photos below. I don't have a photo of a home made one.
Supporting the barrel at the crown, with a crown saver, does not necessarily guarantee that the threading job will be concentric with the bore. I have been down that road and was not satisfied. I also made my own crown saver with a long shaft to center the bore, and it still was not nearly as accurate as using a pin gage with a dial indicator.
I now use the long shafted crown holder to suspend the barrel while beginning to tighten the barrel in the 4 jaw chuck. It keeps the protective spacers in place until I can begin to dial in the bore. It seems to pre-center the bore. But it is not good enough for indicating.
The bore should be indicated to run true from the crown out at least 1-2 inches on a pin gage.
Here is a set up for an AR-15 barrel that will not go completely through the headstock. I used a tight fitting brass mandrel in the chamber to allow it to reach my outboard spider. An aluminum bushing pre-aligns the barrel for the spider screws.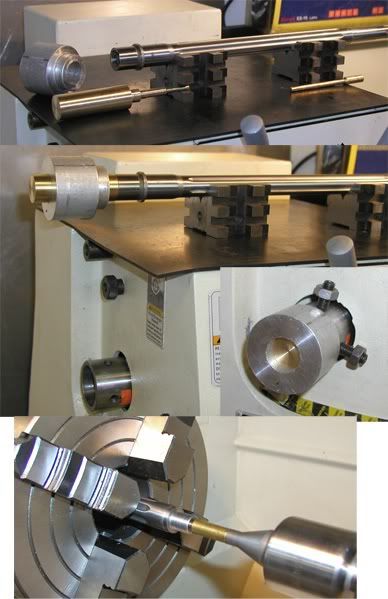 This is a 10/22 setup for short barrels, where the chamber end is held stationary inside the spindle of the lathe. I found the set up so accurate that no manipulation of the chamber end was necessary. The bore would run true all the way out to the end of the pin gage.
Don't use a copper ring on barrel with a black mat finish. It is a bitch to get the copper residue out of the finish. I could never make it disappear.