I am trying to figure out a way that I can feasibly roll some rings to match some that I need to copy. The rings are made out of approximately 5/32 flat sheet, and are 22 inches in diameter. They are about 4 inches wide. Simple at this point, just take a four inch piece and roll it. HOWEVER... the four inch wide piece has a lip on it, on both sides, that is 7/8" which means it is shaped like a channel rolled with the leg to the center of the circle. PLUS, there is also an indentation in the face of the four inch flat area that dips into the center of the flat surface. That indentation is slightly less than one third of the front surface area and is approximately the thickness of the metal deep, though I don't have those specs as of yet. Before I actually start this, I will pay to have one shipped to me(on loan) for exact measurements. I am more of a mill kind of guy than a lathe operator but hopefully even I can muddle through this, as I need to build a roller to make several of these. My personal needs will probably be for six of them, however I only have the spoked wheels for four at this time. The centers and spokes are not nearly as hard to locate as the outer rings, as people replaced the steel rings with rubber tires once the rubber tires became available. Rumor has it that I might be able to make a few more to help offset the cost of making the roller, but hopefully I can absorb it in my tractor budget, lol.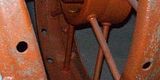 I am completely new to any sort of forming or rolling, so have no ideal what it will take, how many passes, how many rollers, or what kind of horsepower it will take to make this work, so bear with me on that. This is also my first post ever to get some sort of help in making this rings.
I have seen pictures of one set of these wheels that were made without the recess in the center of the flat and the sides were welded on, thereby having a sharp edge. For all the trouble it is to make them, I would prefer them to be as close to the originals as possible. Thanks in advance for all of your comments and help!
David from jax