Got involved in another project while waiting on some parts for the Farm Boy Engine . This is a sensitive drill press from J . Howells plans that will drill sub # 60 drill holes accurately at up to 7,000 rpm ( if my calculations are right ). Moving along pretty good w/ the parts . He gives some hints and guidance but the tooling and setting up of the operations is left up to the builder . The spindle runs on a 20 tooth gear up and down with a rack cut on the back side of the spindle cartridge. The gear is pinned on the feed rod and had to have a hub w/ 3 1/4"- 20 threaded stainless rods set at 120º spacing on a 16º angle to the feed . I thought about using the rotary table , but the 16º to the shaft axis presented a complex problem to me . I'm sure it would be a piece of cake for someone more learned than me . So sometime time back I had made a drill chuck assem . powered by a cordless drill to fit in a 1" boring block for the Aloris tool post and had used it to drill holes at 90º for set screws for securing hubs to shafts and what not . This would be perfect for this op . The other tool that was used was a degree wheel that had been made to fit in the outboard side of the lathe spindle that had a home made expanding arbor for attaching it .
The hub machined to print and drilling of the holes . Drilling of the holes was easy using the compound . After each hole was drilled , the drill bit was replaced with a 1/4 - 20 tap and the drill switched to the low speed mode and the hole was tapped .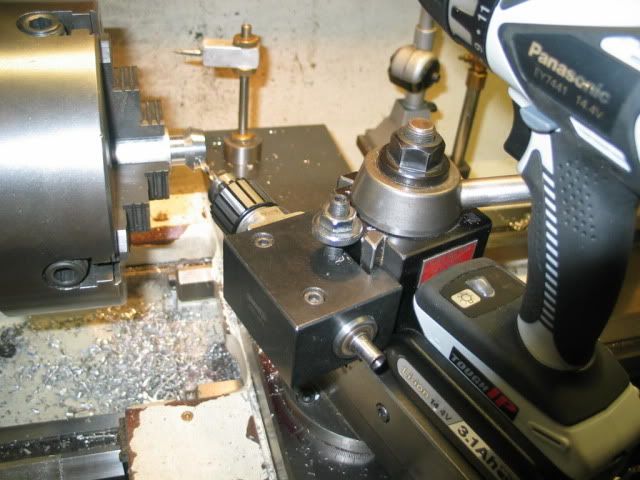 Even I could figure 0º - 120º - 240º LOL .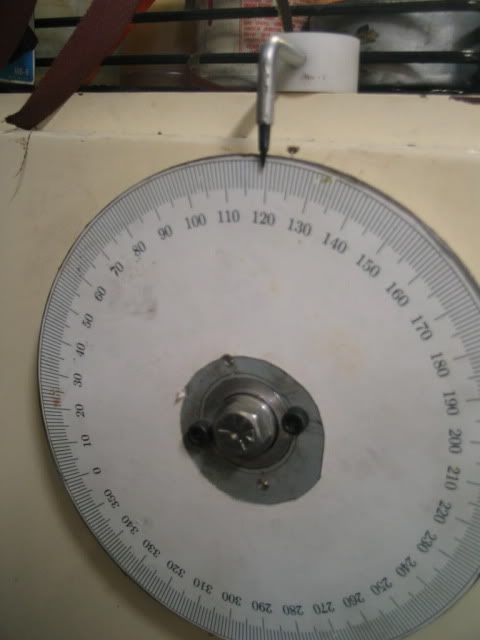 The finished hub mounted on the shaft w/ 2 8 -32 set screws against 90º flats milled on the shaft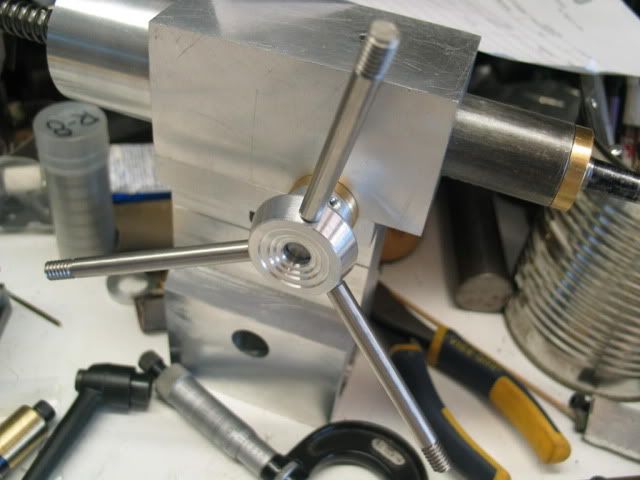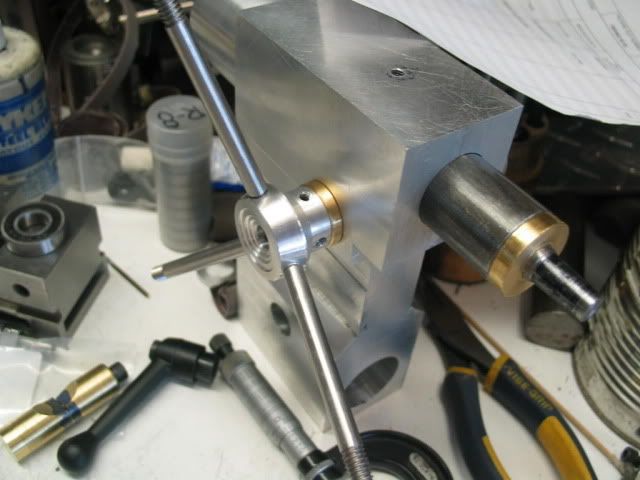 Going to use a variable speed sewing machine motor for power , will have to adjust the mounts to fit .
One of the aspects of this hobby that I really enjoy is figuring how to get the part made and getting the operations in the proper order to get it done . It does strain these old brain cells at times , but I do think it does help my over all mental ability and keeps me from going a little batty . I'll never be an expert at this machining , just as my signature says " the more I learn "