A few years back I purchased a Maxitrak "Planet" locomotive. Essentially in stock form it is a simplistic model of a 2' gauge British 0-4-0 industrial gas mechanical locomotive. As far as a I know I am the only person here in the US who has one of these, making it the only 4.75" gauge Planet built to date. It was always my intention to customize it to be a little more North American in appearance. I did make one color change on the locomotive by painting the red/orange buffer plates black which was a step in the right direction, but I knew I could do better, and a few months back I started planning for a full rebuild of this engine into something truly American.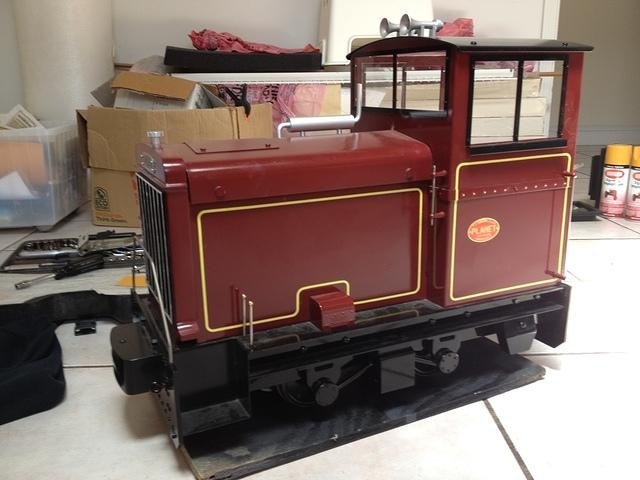 The stock locomotive is maroon with cream lining. It has some simple details. It is powered by a single 12v deep cycle battery. It has two motors, gear drive and spring suspension.
The inspiration for this kitbash comes from a few sources:
1: The Leslie Salt railroad which operated here in the San Francisco bay area until approximately 2002. This railroad operated on a couple different gauges of track. In the east bay, 24" gauge. On the SF peninsula side it was 30". Included in the roster of equipment was at least one Plymouth which was a 4 ton CL series model that was gasoline powered and had a mechanical friction drive. Photo here:
http://www.northeast.railfan.net/images/ls115.jpg
2. West Side Lumber Plymouth No. 1. While this locomotive was twice the tonnage of those used at Leslie Salt, over the years it developed some nice quirky character that gives it a really interesting look. Many appliances were added through the years, such as an externally mounted air compressor and tank and a starter motor and battery to replace the hand crank engine starter. I will be incorporating some of these details into my project. Photo here:
http://www.flickr.com/photos/53177163@N ... /lightbox/
3. The low-cab "Mission Cement" Plymouth at Ardenwood Farm in Fremont CA. This locomotive is actually the same model category as the West Side Plymouth, it is also in relatively good condition, for a Plymouth of it's age (it was built in 1922.) Since it is close by, I was able visit it and take some useful reference photos. Photo: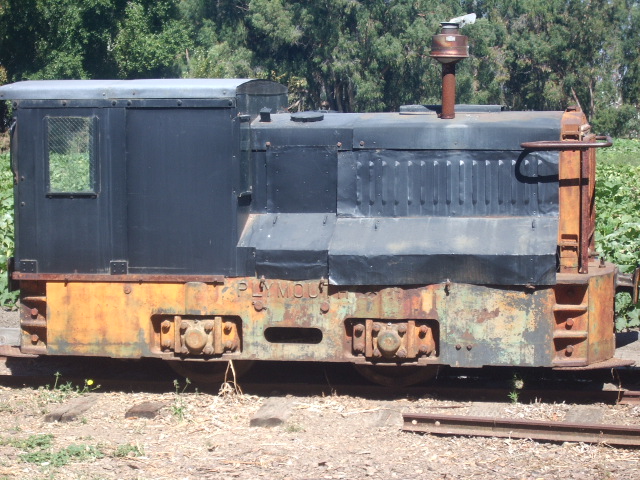 My goals for the project:
1. Incorporate a level of detail seldom seen on ride-on scale "internal combustion" locomotives.
2. Create a freelance model with inspiration drawn from various sources to give it real character as is often seen on industrial "critters"
3. Maintain or improve the reliable running characteristics of the Maxitrak mechanics.
So, lets get started. The Maxtrak uses a combination of metal and plastic detail parts. I am not wild about the use of plastic in some cases, so for the most part, anything I am adding will be fabricated from metal. The radiator on the locomotive is however a large and heavy piece of solid plastic so for this particular component I am going to stick with that medium. The stock radiator has an etched brass name plate that says "Planet". In it's place I will be adding raised lettering that says "Plymouth". One of the real distinguishing characteristics of classic Plymouth locomotives are the Modine radiators which were built up from vertical cells bolted to upper and lower cast heads. The upper head had the Plymouth name cast in in raised lettering. To replicate the look of the Modine radiator I am using laser cut letters. I am also laser cutting the parts to detail out the upper and lower caps of the radiator cells.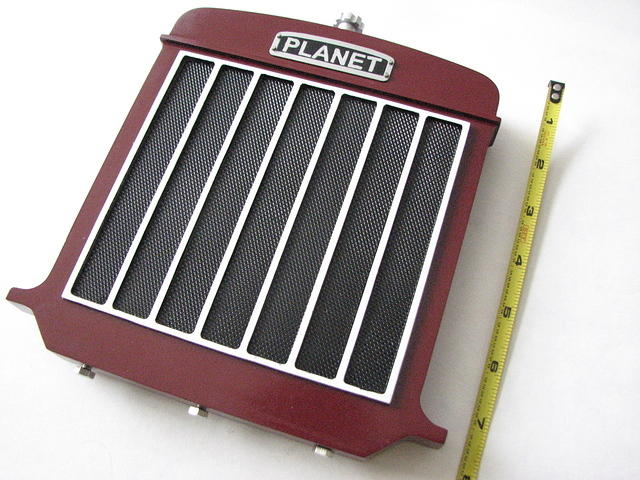 The stock Planet radiator.
The laser cut Plymouth lettering still in place in the locating template and the Modine style caps. The material is white acrylic.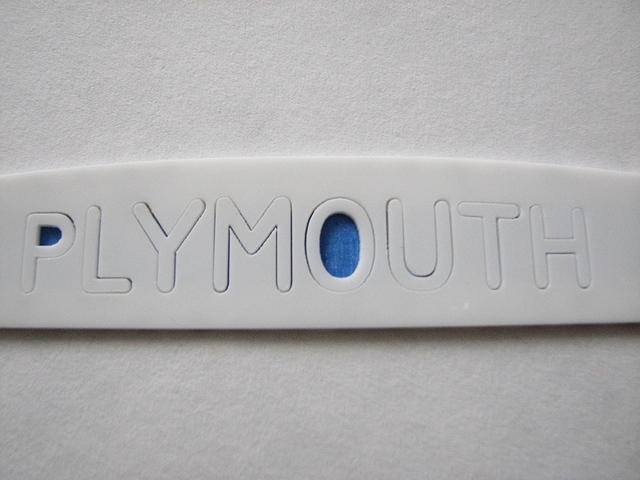 Detail shot of the Plymouth lettering. JB weld was carefully applied to back of each letter with a toothpick. The letters were then glued in place on the radiator head using the locating template to align them.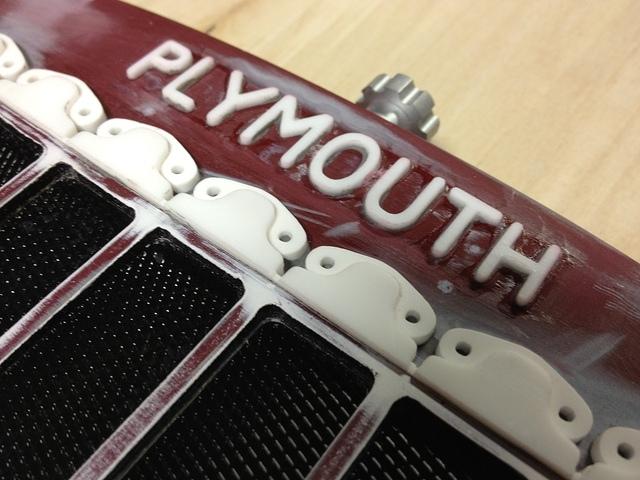 Here are the letters glued in place. I created a "fillet" around each letter with gap filling CA glue to provide the look of a casting.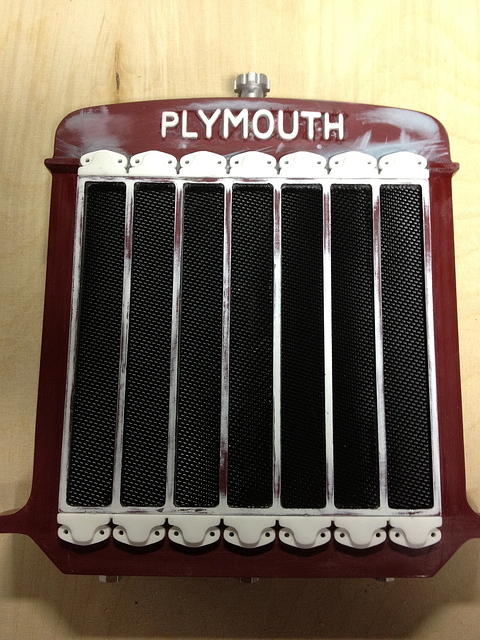 The little holes on the Modine style caps will be drilled and tapped and the 2-56 brass hex head screws will be installed.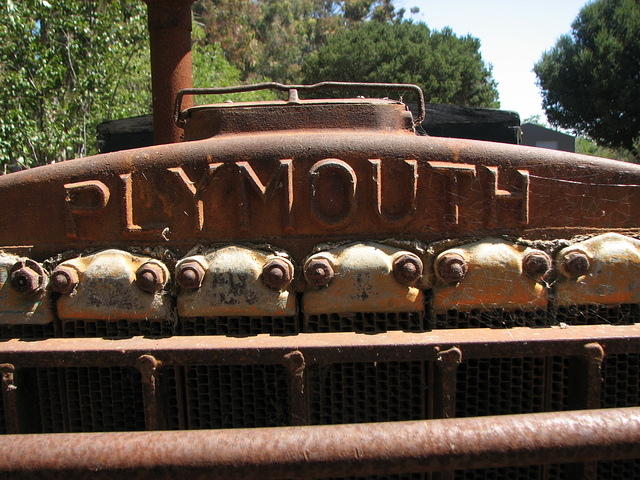 The prototype radiator at Ardenwood.
I have more progress to show so stay tuned.
Regards,