Hi,
I bought my G0704 just last December, Merry Christmas to me!
If you can get a clothes washer or drier down your stairs, 2 people with a 2-wheeled cart can easily get the G0704 into the basement. An appliance cart would be best. But the wooden shipping crates are pretty sturdy and compact and can be lashed to any suitable 2-wheeled cart.
If you don't have or can't use a hoist or lift of some sort, it would not be too difficult for 2 reasonably healthy men to lift the mill on to the stand. But a hoist would, again, be best. If you are going to manually lift it on the stand I would remove the mill head. And the column if needed. Which is easy to do. There is 1 king bolt and 1 clamp bolt holding it on the z-axis slide. And all the electrics are attached to the head also. I was able to easily remove and carry my mill head by myself. And then reinstall it alone also.
As far as the quality of the machine, I like mine a lot. It punches well above it's weight class. I can easily run a 3/4" endmill .100" deep in mild steel. And it doesn't get the shudders like some other benchtops do. It does get cranky with a 2" single point flycutter at around .040" deep. And the torque drops pretty fast when you turn the pot down for slower speeds. That's kind of the nature of the beast with any unversal DC motor and speed control. But overall, it's an amazingly rigid machine with fair power for it's size.
As far as setup goes after de-greasing, I did find I needed to remove the head and column from the base. My mill had about .008" forward nod to the column. I wasn't overly impressed by the assembly. Cosmoline, grit, paint, and burrs can be a valid shimming methodology, but not on my machine. I figured I was going to need to shim it straight. But after a simple cleaning, de-burring and light stoning, it was only off .0005" over the entire y-axis travel on re-assembly. So I needed no shims.
This is what it looked liked before cleaning.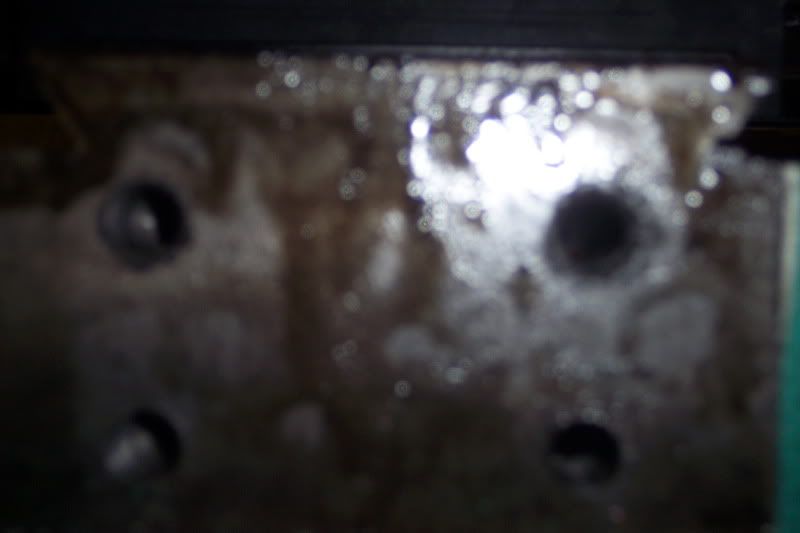 I've made a couple modifications to the mill. None are necessary for operation. I added 2 more clamp bolts to the head and z-slide. I just like the extra security. I also added a couple of stops on each side of the head to make re-adjusting the head quicker when I tilt it side to side. I do need to do one more thing and that is to raise the mill up about 6". I'm 6'4" and it's a bit short for me to use. I think if I get a couple of 2' long pices of 1/4" wallx6"x6" square tubing to set the whole shebang on, I'll be much happier and comfortable.
Oh, Grizzly does offer a bolt on power feed for the mill, they just don't do a good job letting people know about it. I would recommend getting it if you don't want to build your own. It became availble just a week or two after I ordered mine.
I figured I'd have to just build one, but now it's kind of a toss up for me.
dalee