Moderators: Harold_V, WJH, cbrew
Posts: 114
Joined: Mon May 19, 2003 7:05 am
Location: Cochrane Ontario, Canada
Does anyone have or know where I can get plans to build a steam whistle?
---
---
willy
do you mean like this?
-willy-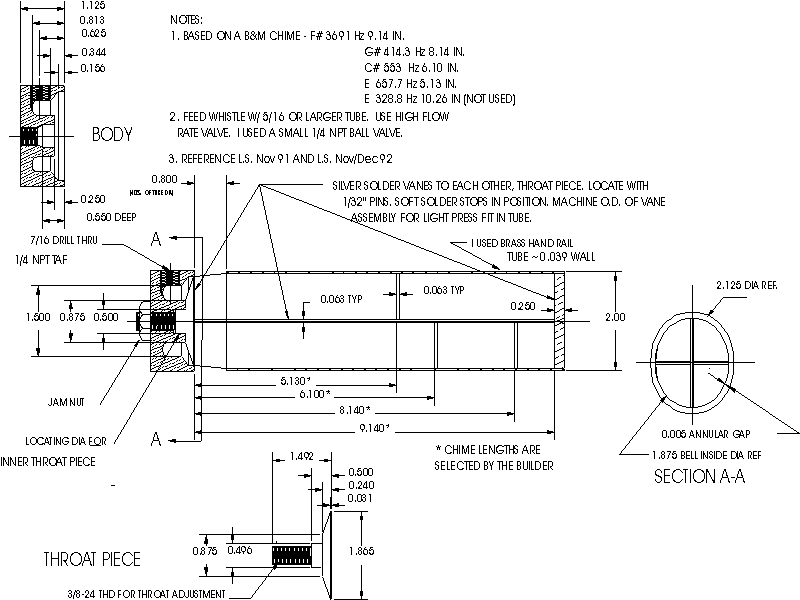 ---
willy
Or like this?
(pics are some one elses. I hope they are public domain, and I offer/keep them for public use only)
-willy-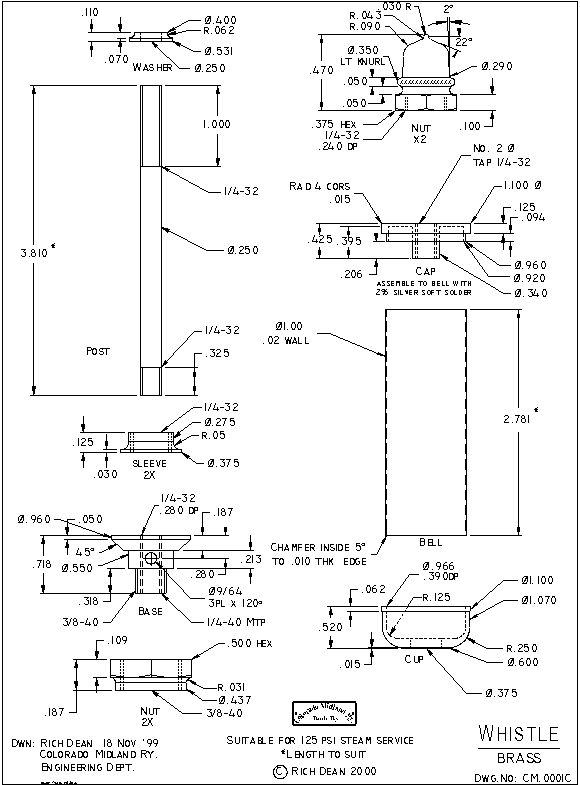 ---
Posts: 114
Joined: Mon May 19, 2003 7:05 am
Location: Cochrane Ontario, Canada
Thanks very much gentlemen. I am going to try to build one for my grandson. His father should love me for that. [img]/ubb/images/graemlins/grin.gif"%20alt="[/img]
---
Just know that the gap between the 'base' and the 'cup' where the steam blows through to the chambers is REAL critical. I am not sure what the drawings show, but if it is more than what it calls for, you will not get a good sound if any.

Fred
---
Posts: 2104
Joined: Sat Jan 04, 2003 2:09 pm
Location: Anchorage, AK
The "C" with the circle around it in Rich Dean's drawing tells me he didn't intend it to be in the public domain.
---
I've always wondered - do these whistles work as just the same whether using compressed air or steam. I can't see why not, but...??
---
willy
The hiss from the air will make the sound hard on the ears. Using steam the sound is more mellow.

My apologies if I stepped on the toes of Mr. Dean, if he requires I will delete the post.

-willy-
---
They "work", but a whistle will usually have a different operating pressure range on steam than on air. A whistle tuned to a given pressure on steam might not sound at all on air.
GWRdriver
Nashville TN
---
Posts: 227
Joined: Mon Jan 06, 2003 8:09 pm
Location: Pennsylvania
Contact:
From my experience (full size, anyway), a steam whistle on air sounds thin and thready - And an air whistle on steam often makes some weird sounding harmonics.
Air and steam do not expand at the same rate, it takes a larger volume of air to do the same job. (except it ISN'T quite THAT simple, there are things like the moisture content in condensed steam that affect the sound quality as well - as much as we like to believe in science, I'm not sure physics has completely explained ALL the "why's")
As for the air gap question, the space between the bowl and bell mostly determines the operating pressure - the wider the gap the higher the pressure. That's why most single chimes have the bells on threaded stems - you simply adjusted it up or down to best match your operating pressure... Many multichime whistles had a "bologna" cut to accomplish basically the same thing with a fixed bell - there is a website that explains it somewhat better than I can.
http://www.whistleman.com/html/how_whistles_work.html
---
i've seen drawings for prototype and model whistles and there seems to be a diference of opinion on how the steam slit relates to the bell. some dwgs show the slit completely inside the ID of the bell. some show the slit splitting the bell.
OK guys lets get a good argument going.
fred v
Fred V
Pensacola, Fl.
---