These 5C collet indexers are not bad for what they cost. Certain parts have value but, the device does not work well out of the box.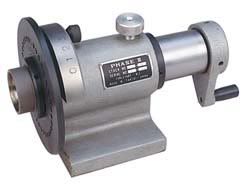 The 5C spindle and frame are quite nice and have a good fit. The indexing plate is nice as well. The draw bar did not tighten the collets well at all and the spindle endplay was retained with steel rings and setscrews. Each time the collet was released from the spindle with a slight bump the spindle would move under the retaining set screws and endplay would result. The steel rings and setscrews were junked years ago.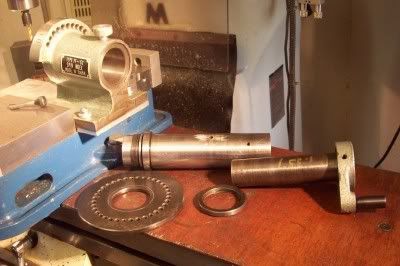 The spindle and drawbar had way to much clearance. It was up to the 5C collet to keep the drawbar centered inside the spindle. Tightening the collet put everything into a bind.
Even though the spindle has been hardened, it is still machinable. I bored the spindle and pressed in a bronze bearing to keep the drawbar centered to the spindle.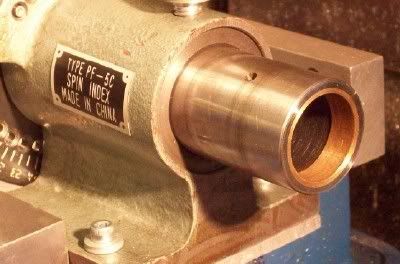 Next, the endplay of the spindle needed to be addressed. I found an old bronze bearing, bored it for a slip fit on the spindle. The O.D. of the bronze bearing was 2.000" so I turned a 2"-32 thread (Don't try to look that one up) on the OD. The bronze bearing was then doweled to the spindle.
Next, I made two knurled steel rings that were 2 3/8 O.D. and a 2"-32 thread in the I.D. One ring is used to adjust for minimum endplay and the second ring locks the first ring in place.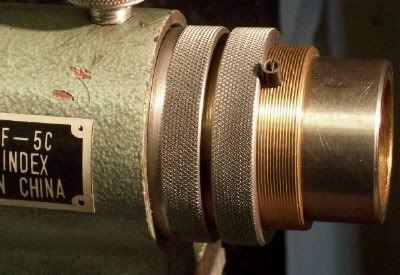 Lubricate the spindle with some way-lube and assemble. The drawbar works much better and the endplay is adjustable using fingers. Notice the indexer is bolted to an aluminum plate. The plate supports the indexer and stops the indexer from tipping when milling or drilling an over hanging part.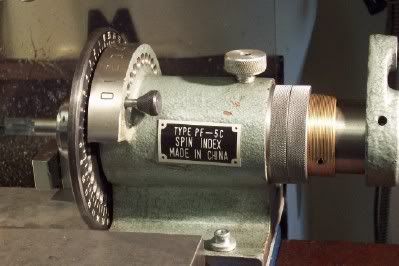 Not a bad indexer now.
Jim