After reading about how some guys extend the shafts of their grinders to stick out beyond the wheel guards so they can mount buffing or wire wheels, it ocurred to me I could go the other way with my Baldor long-shaft buffer. Here's progress so far: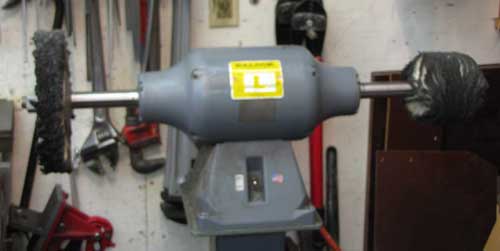 I took the armature out and added some threads to both ends so I could mount the wheels inboard:

The long shafts step down from 30mm to 1.125, and then to .750. That first step is a bare .056 difference in diameter, so I added some very tightly fitted clamp-on collars for extra security:

And I made some 3/4" thick nuts to hold the grinding wheels on, along with a pin spanner:
Next, I'll make some heavy steel wheel stabilizer flanges - 5/8 or so thick in the center, 4.5" diameter because that's the stock I have.
QUESTION #1 -
Should I "pin" the inner flange on each side so it can't rotate? That's how the buffer was originally set up, so I thought it might be a good thing to do with the grinding wheel flanges. Just a simple 1/8" roll pin and a keyway in the flange.
QUESTION #2 -
Anybody have a source for plans/ideas for wheel guards, & tool rest setups that might be appropriate for this project? It's a strong 1 HP motor, so I figure on using ten inch wheels, maybe 1-1/2" wide.