I'm back at it again building another bench top cnc mill bigger and more rigid than the first machine. The head will be mounted to a 6" square steel colum and a moveable ram to increase reach in the "Y" axis. The head "Z" axix will move in square gibs and will have 5" travel. The table and saddle moves on linear ball bearings on Tompson shafting. "X" axies travel is 26" and "Y" axis is 14".
I'm using 550 oz/in stepper obtained where I work. They are changing them out with servos. The steppers will drive from a Gecko 201 driver board, already ordered. I'm using 1/2-10 acme threaded rod for feed screws. I spoke with Mark at Gecko and he figures these steppers and feed screws would have enough power to jack up a car. I guess the machine with self destruct if the travel bottoms out.
Just finished hardening and grinding the spindle shown on the machine table. I used a-2 tool steel. The spindle will only accept endmills with 3/8 shanks or smaller. Sorry, no collet system this time.
I hope this design will be rigid enough to cut steel. Hardly wait to try it out but with summer approaching and vacations it could be a while.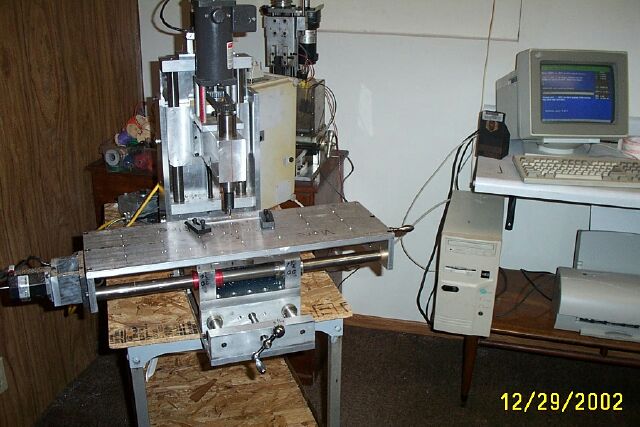 This is the first CNC machine originaly built for another project. Notice the head is not a rigid design running up and down 1" Tompson shafting. Then the spindle extends 10 out from the 1" shafts. Very smooth running but not rigid under a load.
Jim