I bought a couple of imported trim routers at throw-away prices; I leave one of them in this little shop-built table. It stores under a workbench when not needed and is one of the handiest things I've built. It's a pain in the neck to remove the very heavy 3-1/2 HP Milwaukee from under the large router table and change cutters for a trivial task like corner rounding - that tool is far more useful for jobs that require real "grunt".
This small clamp-on router table is perfect for non-precision jobs and allows very quick tool changes. It's sized to clamp on any convenient edge: workbench, dining room table, sawhorse, tailgate of pickup and so forth. A couple of C-clamps and a scrap of hardwood can be used as a temporary fence - applications are limited to imagination and limited horsepower.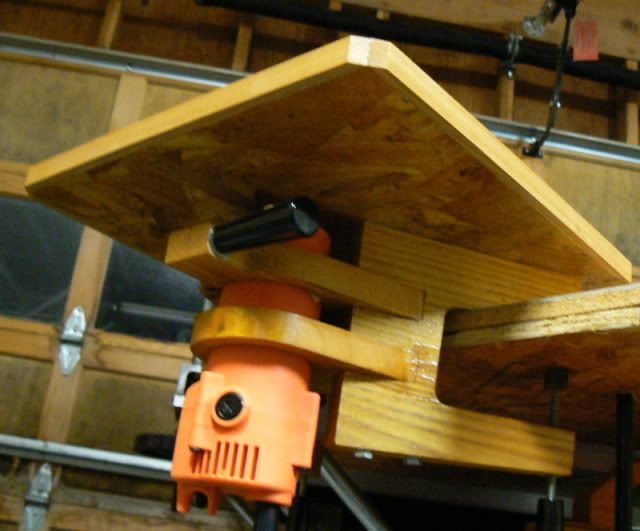 With a carbide chamfering cutter, the little router table is handy for quickly deburring non-ferrous sheet parts that have been sheared or sawed. Add a solid carbide burr and harder materials can be deburred. Clamped onto a sawhorse located outside in the driveway, all the sharp little slivers of metal can be easily swept up and deposited in the scrap can rather than spewed all around the shop, picked up in my shoes and deposited on the living room carpet.
The table was glued up and allowed to cure overnight. The following day, I clamped it to the milling table and used a boring head to produce the two holes that align the trim router perpendicular to the fixture table. Because the body of the router is tapered, the bores were of slightly differing diameters. (Note that the holes were rough cut with a hole saw before the individual pieces were glued together.)
One feature that didn't occur to me (and which I will soon add) is a set of replaceable table inserts to accommodate various diameter cutters. This is a safety provision that is especially necessary when routing aluminum - any extra clearance between cutter and table creates the unpleasant possibility of kick-back.
In keeping with the philosophy that machine tools are very helpful for making gifts, I made a near-identical router table for a brother-in-law last year. My brother-in-law has almost no room for his woodworking tools (his wife insists that garages are for automobiles) so he appreciates the fact that he can clamp the little table to a workbench, use it then unclamp and store. My brother-in-law does not have a bench grinder so he also uses the trim router in the table to sharpen chisels and the like with a mounted stone (1/4 arbor).