Posts: 54
Joined: Fri Jun 18, 2010 1:37 am
what's the difference between a gunsmith lathe and a normal lathe ?
Thanks
Pat
---
Pat,

The simple answer is that a gunsmith lathe may have a spider set up on the outboard end of the spindle to hold a barrel while it is being threaded or chambered.

For example: Grizzly makes a G4000 series lathe. The G4000G is a gunsmith lathe whilc ethe G4000 is not. The G4000G has the outboard spider, larger spindle bore, D-5 Camlock chuck instead of a D-4, roller tips on the steady rest and cast iron bases, comes with a quick change tool post and is a different color.

Some lathes can do gunsmith work with an adaptor on the outboard end of the spindle. I bought the G4000G 3 years ago and I have been quite happy with it. It is not a $10,000 dollar lathe but does perform within the expected limitations of a >$,3000 machine.

Dave C.
I learn something new every day! Problem is I forget two.
---
Thanks Dave, I always wondered that too.
Actually I was afraid to ask in case big brother was watching, up here in Canukistan we're not allowed to do gunsmithing without a licence which involves something like your right arm and first born male child.
---
Posts: 240
Joined: Sun Oct 25, 2009 5:49 pm
Location: Virginia, USA
In the US, the Federal Govt has no regulation prohibiting a person from doing their own gunsmithing. You can't work for others, especially for money, without an FFL and business license. I do much of my own work. State laws might vary from state, to state, but Virginia does not prohibit this practice either.
I made an outboard spider for my lathe:
With this set-up, I use the 4 jaw and a pin gauge of the correct size in the bore to dial in the barrel at the chuck. Then, use the pin gauge to the other side of your head to adjust the other end of the barrel using the spider. Back and forth between the one side, and the other side and you can get the barrel running perfectly in line with the bore of the lathe.
Before you do all that work, you really need to make sure the headstock itself is parallel with the ways. Take a piece of round stock large enough not to deflect under light to moderate load, and turn off a few thou over about 4". Mic it at one end of the cut, and then at the other. If you see a difference, your head needs to be adjusted. Bear in mind that this method is only as accurate as the surface finish will allow.
To the person with the critical eye, you will notice that this method only works if the barrel is long enough to stick out the other side of the headstock. if you are working on a legally registered short barreled rifle, a carbine, or a pistol barrel. You might not be able to use this method.
---
There is a solution being offered by Grizzly for those of you that need to reduce the distance through the headstock for shorter barrels.

They call them something like a D1-5 spider. It replaces the chuck so the distance will be shorter.

Dave C.
I learn something new every day! Problem is I forget two.
---
Posts: 240
Joined: Sun Oct 25, 2009 5:49 pm
Location: Virginia, USA
That would work. I might have to see if I can find one.

Of course, the other way is to chuck up one end in the headstock, and use the other end in a spider that spins in your steady rest. I have never really liked (or felt comfortable) with using the spider/steady rest system ... but sometimes you gotta do, what you gotta do.

The only way I have ever found to do pistol barrels, is just in the 4-jaw, dialed in on the bore through a gauge pin, and let the chamber end be. there might be some error, but it should be so slight to be inconsequential.
---
For those of you who might be interested in seeing how barrels are chambered, Grizzly sells a nice 90 minute video of Gordy Gritters taking a blank all the way through to completion. He give some very good tips but also leaves out some of the tips on the tools he uses and where he found them.
Still, it is a good gunsmiths video. Gordy Gritters makes record setting barrels for 1,000 yard competitions and apparently is considered one of the best. (Way better than me, Ok, that ain't sayin' much)
Dave C.
I learn something new every day! Problem is I forget two.
---
I was an Armourer by trade and still do a bit of work for myself; down here in Australia we are not allowed to do gunsmithing as such without a licence, back to base alarm etc., et bureaucratic cetra.
I have a 3 1/2" (7") Hercus lathe which is an Australian copy of the South Bend and is a fine little machine. It does have its limitations though and I made a steady for it that incorporates a spider running in a ball race.
Here's a picture of an antique pistol barrel that had a liner fitted and then the liner machined back to allow the parent damascus barrel to be peined over the end of the liner.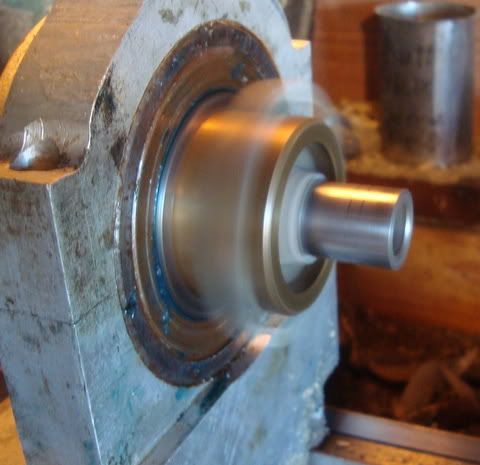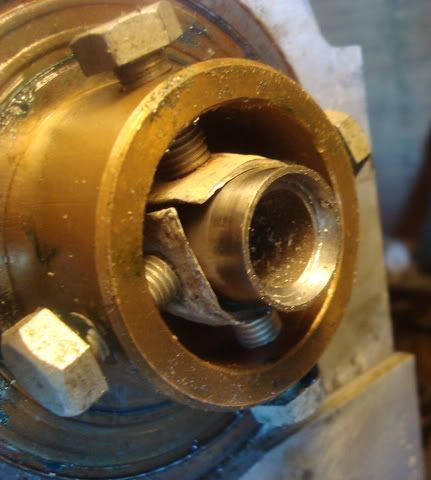 ---
Posts: 54
Joined: Fri Jun 18, 2010 1:37 am
Thanks for the info guys now all I have to do is decide witch lathe that I want from grizzly
the
G0709, G0509G or the G0670
---
Would be an easy decision for me. You could get three G0709s for the price of one
G0670. You've already got a few ideas of how to do the barrel support for the LH end of the spindle and why would you need 16" swing for gunsmithing?
Now if price is no obstacle and size interests you why not go for the
SB1045PF 21" x 120" Turn-Nado® EVS Lathe with DRO $51,295.00
---