Greetings all.
I tend to lurk on this board and rarely post. I am interested in making a custom 2-barrel carburetor adapter. This will go onto my '61 Falcon w/ the 6 cyl where the intake manifold (log) is cast integral to the head. My adapter will take a cross-car slot and turn it into a fore/aft slot. I fabricated the current carb adapter using a casting and several machined parts welded together. Its limitation is that the adapter narrows down to a 1.75 dia bore. It looks like this: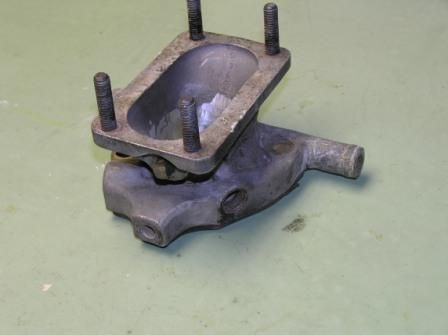 Due to mold-ability constraints, my new proposal consists of two castings that will be welded together (after I grind out a significant amount of material out of the bore that would be "die locked" (not sure what the term would be for a sandcasting). Ideally this part would be investment cast but I expect that to be out of my $ range. The two patterns correctly oriented look like this:
The upper portion that will mate with the carb looks like this (proposed parting line marked on the part with a marker (ignore the PL note inside of the part)):
The base looks like this: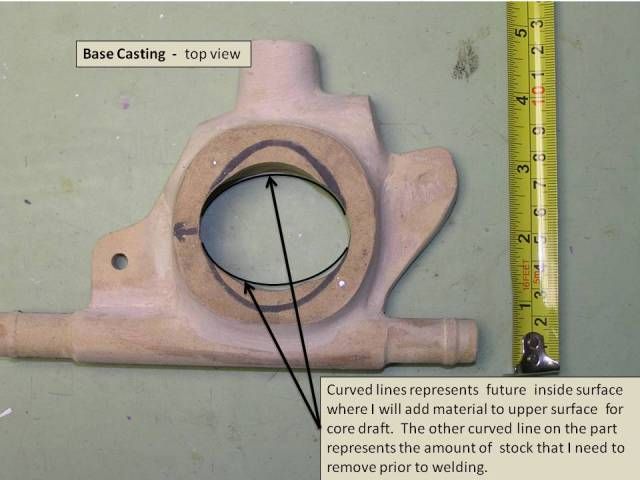 How accurately can a core be positioned in a hobby foundry? I have rather thick wall stock that I think could be thinned down - I just don't want a part that has paper thin wall stock. One thought that came to me, as I am typing this message - if I made a separate "mold" for the core - could it then be "die locked" on its long axis if the mold was split perpendicular to the long axis? I still need to fill & sand the outside of the part to final shape and then varnish the pattern; and fill the inside of the part to achieve a core that will pull. Hopefully the markings on the pictures make sense.
A lot more pictures on the first couple of pages in this album:
http://s290.photobucket.com/albums/ll272/aribert/Falcon/
Seeking comments, suggestions and ultimately someone to cast a couple pcs of each part (not sure what fair compensation should be for parts of this complexity).