Posts: 20
Joined: Sat Dec 25, 2004 3:05 pm
How about showing off your cool tooling / measurement devices you have made for your lathe? Indicator holders, stops..... all the things you have made to make your lathe work easier. There are a lot of new people looking needing your expertise. Thanks!!!!
---
Here is a few photos of my Trav-A-Dial bracket on my 12" Craftsman.
Enjoy, Greg B.
---
Best tool I ever put on my lathes Trav-A-Dials !!!!!
---
Here's a couple more.
Sticker to replace my worn out speed chart.
I know it's hard to see, but this is a replacement crossfeed dial that reads directly to diameter. In other words, dial in .001, it takes .001 .
Greg B.
---
This was one of the first projects I made after I got my lathe. Each division is .001 The long lines are .005 apart. I have since engraved numbers on it.
Keith, From the land of Oz, although not the Wizard of.
---
And yet a couple more.
Bijur oiler I picked up for $20.
And here is where it plumbs into the back of the saddle. It was alot of fun drilling 8" into the saddle and drilling small ports for the way lube squirt out under the carriage where it's needed. I never liked relying on just the felt wipers to adequately lubricate the ways.
Greg B.
---
And my faceplate that started life as a drill press table.
---
Posts: 138
Joined: Tue Jan 07, 2003 10:34 pm
Location: Utah
Greg,

All good looking and clever!

By the way, what's the sticker made with? Please elaborate a bit...
---
Thanks, Mike.
Actually, my wife drew up the sticker with ACAD in school. Clausing no longer sells the actual speedchart for the underneath drive 12" lathe, but I could buy a copy of a drawing. The drawing had all the pertinent info, such as font styles and point sizes. Armed with that, it was a simple matter for her to reproduce it in CAD. Then she printed it out on a sheet of adhesive paper with a color printer.
Greg B.
---
Posts: 138
Joined: Tue Jan 07, 2003 10:34 pm
Location: Utah
---
Mike,
Interesting, and not to hijack this thread too badly, somewhat ironic, since the company I work for manufactures photolithographic and laser ablation equipment for the printed circut, silicon wafer and semiconductor industry.
Greg B.
---
Posts: 2278
Joined: Sat Jan 04, 2003 8:33 pm
Location: 40 Miles West of Chicago/near DeKalb
Contact:
Below is my homemade quick change tool post. It is my own design. The toolholders are tightened with a 1/4-20 screw. It worked great for 5 years but replaced it recently with an new AXA Aloris toolpost. I was able to still use all the toolholders that are also homemade.
Below is a combination cut-off and turn toolholder.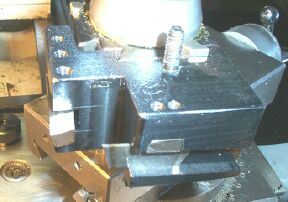 Jim
Tool & Die Maker/Electrician, Retired 2007

So much to learn and so little time.

www.outbackmachineshop.com
---