Search found 656 matches
by tburzio

Thu Oct 04, 2012 10:27 am
Forum: Live Steam
Replies: 7
Views: 1615
The design of the spark arrestor is not so much one of stopping sparks, but of stopping the grids from being clogged with steam oil and water. Once you get any water on the grids, the soot starts sticking and then very soon it's clogging your exhaust. My arrestor is a cylinder about 8" tall with 1/8...
by tburzio

Tue Oct 02, 2012 6:19 pm
Forum: Live Steam
Topic: Doubleheading
Replies: 35
Views: 7596
Does four count?
by tburzio

Sat Sep 29, 2012 4:28 am
Forum: Live Steam
Replies: 21
Views: 3091
whether or not to continue with club activities Pulling passengers is my most fun activity. Talk to your passengers. See what you are doing through their eyes. Yeah, you can get burned by clubs. It usually takes an hour to find out who actually owns the club. This is rarely the elected "officials"....
by tburzio

Mon Sep 24, 2012 5:33 pm
Forum: Live Steam
Topic: 3-D printer
Replies: 8
Views: 1427
Hey! Anyone own a metal casting company tired of being idle all the time? Call Shapeways and see if you can be the back end. Shapeways prints the part, you cast a hundred and ship from their one web site...

Or, you can sit around and wait for the bank to call...
by tburzio

Mon Sep 24, 2012 5:28 pm
Forum: Live Steam
Topic: 3-D printer
Replies: 8
Views: 1427
If we are going to rely on 3d printing to bring back our industry, we are deeply in trouble... No, it's going to be a way for very small American start-ups to get their product into passable prototype shape to attract investment. The American machinist is far too irritating to be dealt with by anyo...
by tburzio

Mon Sep 24, 2012 12:04 pm
Forum: Live Steam
Topic: Experience with Re-Railers
Replies: 18
Views: 2648
My question is, how often does a train derail? Varies wildly. At one track, 7 per out and back (I have a movie!) At others, sometimes I loose the pilot axle which isn't too hard to get back on. The majority of tracks I have no derailments at all. Sticky trailing points (spring switches) are the mai...
by tburzio

Tue Sep 18, 2012 7:43 am
Forum: Live Steam
Topic: simulated smoke
Replies: 15
Views: 2460
One of the reasons I didn't like Pocahontas coal was that it didn't make any smoke. No matter what I tried, nothing. One time I tried making smoke with chainsaw wood dust. Well, I scooped a shovel full into the fire. It caught, got sucked into the tubes, out the stack and landed on me, still on fire...
by tburzio

Sun Sep 16, 2012 1:49 am
Forum: Riding Scale Railroading
Topic: Turnout Construction
Replies: 3
Views: 1787
Are there any other dimensions I need? Yes, the most important one, which is the distance from the stock rail to the guard rail, then the back to back to the frog point. Get that wrong, and the flange will impact the point. I have been on several tracks where they don't get it right, and indeed I h...
by tburzio

Sat Sep 15, 2012 1:16 pm
Forum: Live Steam
Replies: 18
Views: 3802
Hi!
I fiddled with the color a bit to try and bring out the print. The dynamic range suffered a bit, but you can almost hear the steamer chuffing!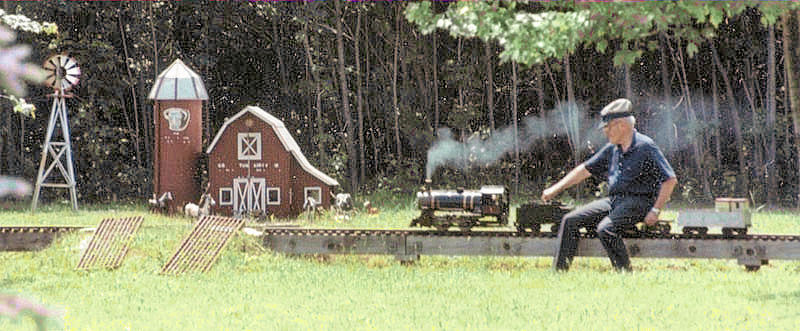 by tburzio

Wed Sep 12, 2012 5:54 pm
Forum: Live Steam
Topic: Big Boy In Space
Replies: 11
Views: 1808
You don't get insulation. The original external tank insulation was created using chlorofluorocarbons (freon), which made very hard foam. When the enviros banned this substance, the new foam was weaker and parts broke off during launch and sometimes hit and broke the shuttle tiles. This is why the s...