I posted the finished product on the Milling Board so you can see what the end product looks like. Some might call this a labor of love. I would probably use a much stronger 4 letter word.
I have been using a $9.00 drill press vise on my mill/drill trying to make reasonably accurate parts and tooling. It has been a struggle. I could not afford what I wanted, so I decided to make one. Well that was in March. With the help I got from bluechipmachineshop.com by him restoring a Kurt brand vise and showing pictures of all the parts, I finally completed mine. It works quite well and beside what I was using, I think I have a Kurt. I knew I could not cast the base and ways so I decided to build the parts and bolt everything together. I used the steel I had on hand and bought the leadscrew, nut, thrust bearing, sleeves and button head cap screws. I have about $30.00 worth of parts in it and two million dollars in labor. I will post the construction of the base and see if there is any interest in seeing the whole process.
The base is 5/8" thick steel 6" x 11-5/8". That size was chosen because I have a piece of 5/8 plate that is 11-5/8 wide and 6' long. Now minus 6". I wanted it to look sorta like a cast base, so I machined some swarth channels in it. They probably are not necessary as is the milling of a boss for the bolt holes. Probably 1/2" plate would do as well.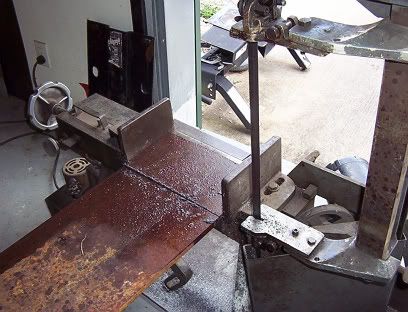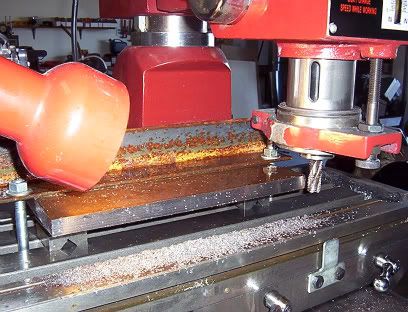 There is a .100 deep recess machined in the bottom 3/4" in from all sides and milled out completely. The base sits on a 3/4" border around the outside. The recess allows the button heads to clear and not interfere with it sitting level.
The next picture shows the ways ( 1-1/4 square 1018 ) and end bearing housing sitting on the base. I have considered surface grinding the base on both sides, but have not done that yet. I am thinking I will just surface grind the bottom and the ways parallel. It measures less than a thousand off on the surface plate. So, maybe not!!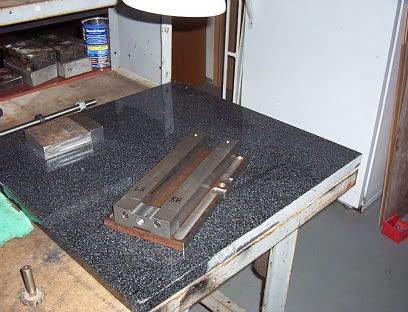 If interested, more later.
Frank