I have a ER-40 collet set that I acquired sometime back and it is used on the mill having a R-8 to ER 40 adapter . I also bought a ER-40 adapter w/ a 1-1/4" stub at the same time to use on the lathe so collets could be used both places . The 5C that goes on the lathe is very handy because of the pass thru , but it also requires the removal of the heavy 10" chuck . Saw a post by Randy C on another forum where he took the same 1-1/4" x ER40 and adapted it to bolt to a Emco Compact Eight spindle . He drilled out the ID to make it a pass thru design . Would like to give credit to him for an excellent idea .
I was just chucking it up in the 4 jaw on the 1-1/4" end , but no pass thru . So , utilizing his idea I started modifying mine .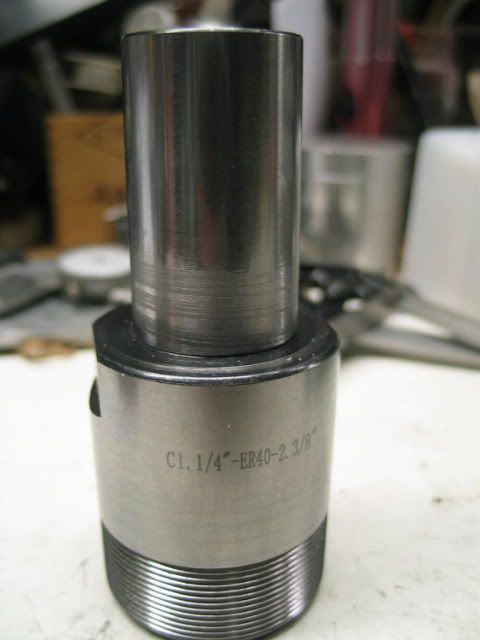 This adapter was chopped and faced off . Then was bored out to 1.135" so 1" would pass thru easily . The adapter was extremely hard and took carbide bars to get it opened up . The bars I used are of the no name kind that all the vendors sell ,5/8' and 3/4" w/ brazed carbide tips of questionable content ,not the best quality . It took some different DOC and feeds to get thru , but got it opened up . Several breaks to sharpen them w/ the diamond EzeeLap steels .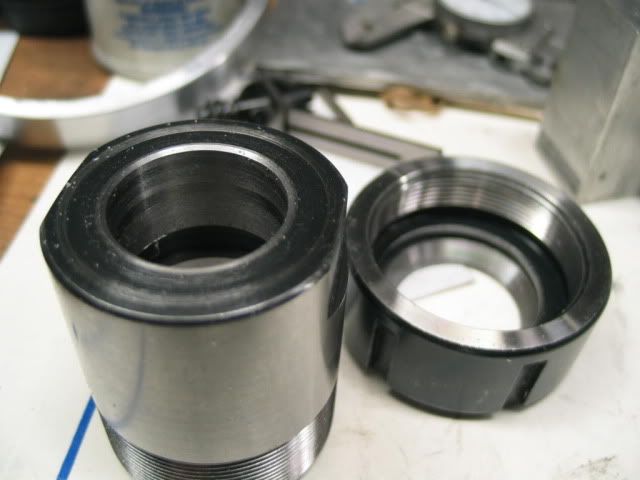 Chucked up in the 4 jaw , with a pc of 1/2" drill rod , run out at the collet was less the 1/2 thou. and 5" out was .001" , should work good and save my back in changing out the chuck to the 5C and the draw bar plus now I have pass thru on the ER40's .
I have a vendor , Online Metal Supply , that I buy my metal from that I ordered some sheet brass and had them shear up some 12"x1"x .032" strips for shims . I just take the snips and cut to length . Saves lots of shiny surfaces from getting marred up . The .032" seems to be the right thickness .