Well, I have been remiss in posting. You might think I left the country. No such luck. I have been distracted, but I still read posts regularly. Thought I would share some of the things going on in my shop. Since my last post I found a basket case square column table top, built a 2x72 belt grinder, almost finished with a cnc engraver. More on the mill and engraver later.
The belt grinder started out to be modeled after one I saw on cnccookbook: belt grinder ideas. It was to have the motor mounted through the two vertical plates. The DC motor I was going to use was large and about that time I was given a tread mill. So in mid stream I changed the motor arrangement.
I used the motor control from the treadmill and placed it in a water proof box, used a 4" hole saw and cut the speed indicator from the tread mill and mounted it to the top of the box. Then mounted the pot to the top, put the circuit board in the box, viola, motor controlled. The large wheel is a Harbour Freight cheepo with a small out-of-balance to it. I figured that I should make sure the thing works before spending money on a nice smooth running one. I have used this one to satisfactory results for what I was doing.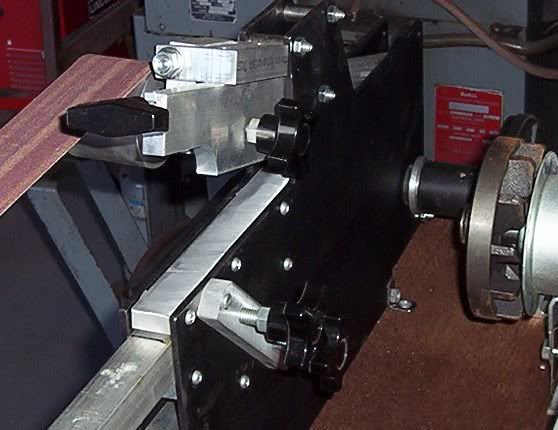 I used the drive belt and pulleys from the treadmill and cut down one of the rollers to drive the alum drive wheel. It is a 12mm shaft, so I just made a wheel for a 12mm shaft.
The tracking wheel and spring loaded quick change arm are pretty standard.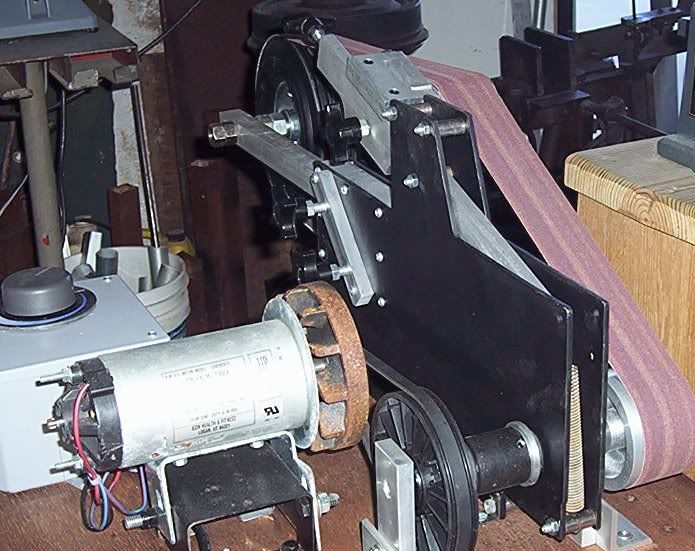 The knobs were left over from when I built the woodworking shaper for my son-in-laws wood shop.
The vertical support is standard fare. If you lay it down, it presents a 2" dia wheel for grinding. I am still working on a support table that will slide in the unused slot when needed. I have yet to have a need, so it waits.
Frank