Moderators: Harold_V, WJH, gwrdriver
Posts: 15
Joined: Wed Dec 04, 2013 8:51 pm
Location: Western North Carolina
Looking for 2.5" scale Mich-Cal Shay plans.
---
I have plans for a little larger 2.5" Shay.........

John B
---
I may have a set, I will look when I get home and send you a pm
---
I am sure Ken Hemmelgarn is the copyright owner of the William Harris design for the 2 1/2" scale Mich-Cal #2. He lives around Dayton, OH and sells the Harris plans. I know he made a number of corrections which were inadvertently carried forward from the smaller 1-1/2" version. I have dealt with both Ken and John Buckwalter, down in Florida, and have found them both to be stand-up guys. John's plans are of a slightly different 2-cylinder Shay. According to Steve Zuiderveen, who frequents these pages, Ken may be contacted at Ken.Hemmelgarn [at] sbcglobal.net Insert @ symbol as necessary. I'm working on a 2-cylinder T-boiler Kelley Island Lime and Transport Shay, using some castings from the original supplier in Missouri, as well as some from John in Florida. As long as I'm mentioning honorable suppliers, I should note I have a Marty Knox boiler for my locomotive.
Best of luck...
---
Posts: 2
Joined: Sun Mar 28, 2021 12:18 pm
Hi, I am having no luck finding a complete set of plans for the Mich-Cal #2. Any help? CAD plans would be great but I am open to anything that is complete. Thank you
---
Posts: 5
Joined: Sat Jan 16, 2016 2:30 am
---
Posts: 505
Joined: Sun Jan 05, 2003 12:03 am
Location: Baltimore
ken.hemmelgarn@sbcglobal.net
. As stated above, he has the copyright. And if you want a headstart at it, I believe he has one or two fully built up motors.
Steve
---
Posts: 2
Joined: Sun Mar 28, 2021 12:18 pm
Thanks for the replies. I tried the Plan Ahead and no answer to my email and also called and it said the number was no longer in service. I contact Ken via the email listed and he is the man. I am getting a set from him. Thank again, Bill
---
Posts: 505
Joined: Sun Jan 05, 2003 12:03 am
Location: Baltimore
Bill

Good move. I have one of these being overhauled, and another one in kit form. Ken's improvements to the Harris design are wonderful. I was briefly a minority owner of a locomotive kit manufacturer. We are not fond of folks who steal our design, "improve" it by simply redrawing in CAD, and sell the design without any investment in tooling or customer service.

Steve
---
Posts: 219
Joined: Wed Feb 27, 2008 11:02 pm
Location: Loveland, CO USA
I have been restoring a Mich-Cal Shay that I bought a few years ago. Have been pondering the idea of building a 3rd truck. Apparently Lima did sell at least one small 2 cylinder Shay with 3 trucks. The extra water storage and riding space might be nice.
George Erhart
Loveland, CO
https://lovelandcreatorspace.com
---
Posts: 505
Joined: Sun Jan 05, 2003 12:03 am
Location: Baltimore
---
Posts: 26
Joined: Mon May 08, 2017 1:09 pm
For what it's worth, I built a 2.5" scale (approximate) shay by multiplying Bill Harris's dimensions by 1.5. It works OK, but the steam engine itself is a bit flimsy. The cylinders are only 1.5" x 1.5".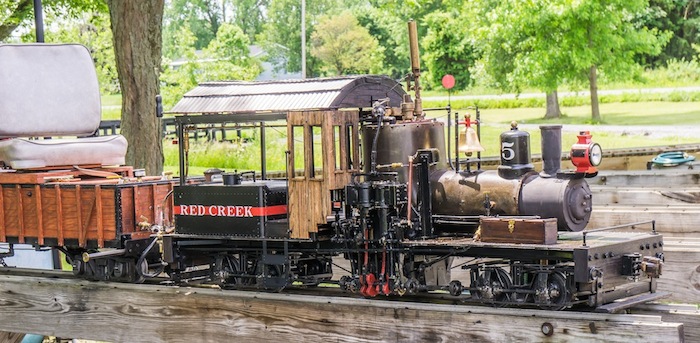 ---