I have acquired a number of those 1/4" drill chucks over the years. Always hated the little "L" shaped chuck wrench
used with the chuck. Changing the chuck jaws from a small drill to a large drill was always tedious for me. Now I'm using these small drill chucks in my new tailstock turret head. The little "L" shaped chuck wrench became an aggravating problem. It dawned on me there was a better way to make a chuck wrench for these small drill chucks.
Chuck, "L" wrench, My homemade chuck wrench: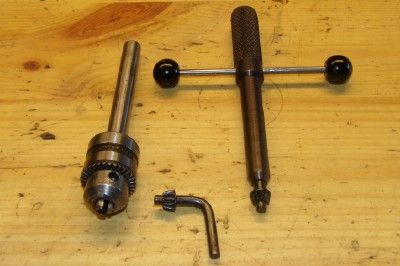 I always get a kick out of making gadgets like this. Went to the hardware store and discovered they offer a small chuck wrench that is a "T" style wrench. I removed the little "T" handle and inserted the shank and gear into a piece of CRS. First I Cross drilled and used the "T" handle to pin the shank to the shaft. Bought those little black balls with
10-32 holes tapped in them.
The knurled handle is used like a screw driver for resizing the chuck jaws. To tighten my fingers extend downward to the T-handle to tighten the chuck. I'll probably need to be careful not to over tighten the little drill chuck.
I gave my new chuck wrench some color by placing it on an electric hotplate I have in the shop. Heat it up until it starts to turn blue then drop the piece into a container full of real dirty motor oil until cool. That finish will resist rusting.
Thought this might be of interest, Jim