j morgan,

That is one nice Comet, is that a 3KV?

Jack.
---
Hi Jack,
The mill is a 2V. Works well for me.
---
My 1st milling machine - Just brought it home
and got it set in to place today.
A little 8x36 Jet.
Now I'm glad Grizzly was backordered on every mill I
thought I wanted, it lead me to this one.
I still have to rewire the motor for 220 (1ph), and get some
oil for the spindle bearings & one shot.
---
Very neat how that works out. (nice mill) haveing been on both sides of the hook
---
Posts: 7
Joined: Tue May 03, 2011 12:41 pm
I just started with this group so here's a few shots of my collection.
Got into making metal chips in the process of restoring old woodworking machines.
Got this 8" Shaperite from an estate sale, where the previous owner moved on to the big machine shop in the sky.
All it took was a clean-up and plug-in.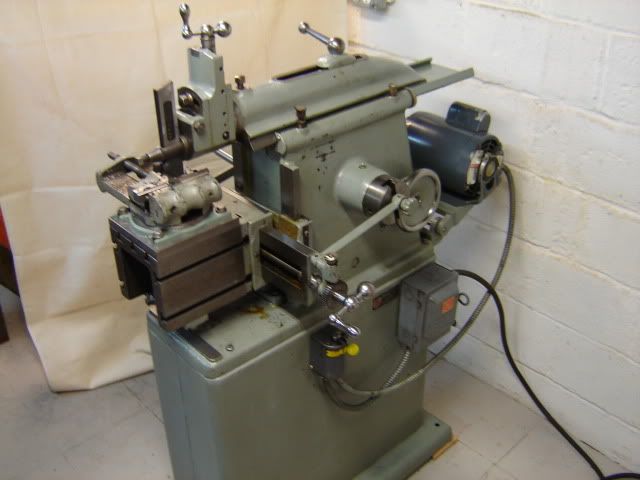 Next is an Atlas, also from a passed on basement tinkerer.
The feed gearing was all locked up from lube turning to glue. Other than that just a paint job and a new base cabinet.
Had this Benchmaster for a while.It worked well and was happy with it but sold it to a member on another forum when I came across a deal for a Bridgeport from a machine dealer that I could that I couldn't pass.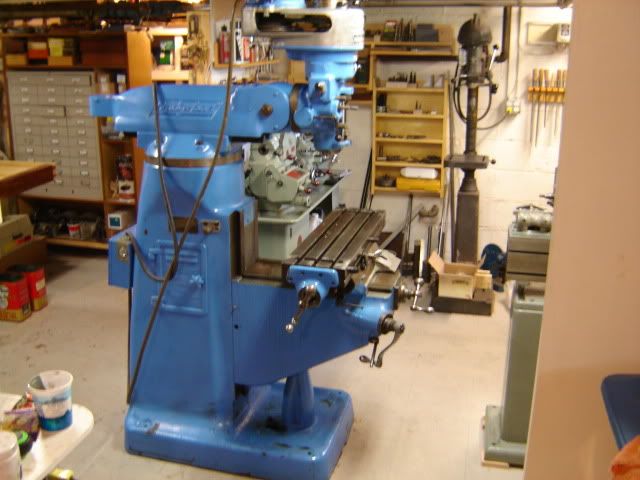 Hope you enjoyed the little tour.
---
enjoyed Yes. Very cool. The machines speak for themselves. I just have to comment on your cabinet base for the Atlas mill. Man did you Make that? It is perfect. It looks metal but is it wood all rounded off and painted? BB drawerslides?
---
Posts: 7
Joined: Tue May 03, 2011 12:41 pm
Spro, yes I built the cabinet out of 3/4" birch ply from Lowes. Essentially a box with ball bearing slides for the drawers. It is attached to a frame of 2x4 to which are lag- screwed casters. It's convenient to have it mobile. The drawer fronts are pine.
---
OK. All these shop pics are interesting. Sometimes I just have to say something
BTW as a restorer of woodworking machinery, are you familiar with a Monarch jointer planer? If you are or need parts I may be able to help. You can PM me.
---
Posts: 783
Joined: Mon Jan 09, 2012 7:15 pm
Location: Cincinnati, Ohio, USA
Rustaholic wrote: I do own the oldest LeBlond lathe known to exist.
It is Lot 2, No, 4

That is the 14th one they built.
That lathe was built not more than 1/2 mile from my house. About 3/4 of a mile in the other direction was the mighty Cincinnati Milling Machine Company.
Both are completely gone now. LeBlond's site is a shopping center; the Mill's site will be shortly.
I'd love to see a picture of your lathe.
Ed
Ed

Le Blond Dual Drive
US-Burke Millrite MVI
Atlas 618
Files, snips and cold chisels

Proud denizen of the former "Machine Tool Capitol of the World"
---
neanderman wrote:Both are completely gone now.
What a sad commentary on the way our country has gone.
Harold
Wise people talk because they have something to say. Fools talk because they have to say something.
---
Woodcutter, I have a Havir "Shape-Rite" 8" shaper that got damaged in my move (I plead guilty)
If you come across a trove of parts please let me know. I'm holding on to the shaper in the hopes I can find some parts or a magician cast iron welder.
Not an oft used machine but I have cut internal splines, keyways and a round rack for a machine I repaired for someone. And if I were lucky enough to get QCTPs for my lathes it would help to make toolholders in lieu of an expensive dovetail cutter for the mill.
---
Posts: 418
Joined: Thu Apr 09, 2009 10:58 am
Location: San Clemente, CA
Mid Day Machining wrote:My Dyna-Mites. I got the first one about a year ago, then I got the second one about 6 months ago. They are small, but I have fun with them. Their travel is only 6.2 in. in X, 5.0 in Y and 4.0 in Z, and they have a rip snortin 1/2 HP 10,000 RPM spindle. They RAPID at a screaming 30 IPM. Like I said, I'm in no hurry.
My wife came to me last June with a proposition. Her neice was getting married in August and she told me if I would wear a suit to the wedding, she would find the money to get me a better machine.
I stood up, and said, "let's go buy a suit". And here's what I have now.
You can buy good parts, or you can buy cheap parts, but you can't buy good cheap parts.
---